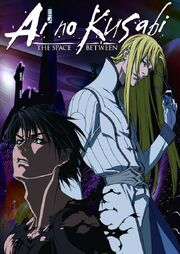 Ai no Kusabi (間の楔) is a Japanese novel written by Rieko Yoshihara that was originally serialized in the yaoi magazine Shousetsu June between December 1986 and October 1987. The story was later translated into an eight volume novel that was released by the English publisher June.
The story takes place on a futuristic world called Amoï where the supercomputer Jupiter strictly rules over the society. There are three classes, Elites of Tanagura, Midas Citizens, and Mongrels from Ceres. When Iason Mink, an elite, encounters a lower class slum mongrel named Riki he decides to forcibly take him as a pet which is taboo in the elite society. Even though Jupiter disapproves Iason decides to keep Riki longer than it is socially approved, at the same time Riki doesn't know what to do, fight against Iason or surrender to him.
Characters
Edit
There is a two-episode original video animation adaption from 1992/1994 directed by Akira Nishimori. The plot differed from the novels' storyline, but kept the main story points intact.
A remake was released in Japan 2012 but duo to financial issues only four of the scheduled twelve episodes has been released so far. There are no news on further releases at this point in time.